If you're planning to travel abroad, knowing your COVID-19 status plays a crucial role in the success of your trip. If you test positive in the Philippines, you may be required to stay where you are until you test negative.
Unfortunately, you may not receive the medical attention your condition deserves. You may also incur unplanned accommodation expenses for a state-chosen quarantine facility. Lastly, any COVID-19-related delay can make you miss a business appointment or a lovely moment with your family.
Consider a COVID-19 test in advance to avoid surprises during your trip. More importantly, procure the test from a trusted urgent care center to be sure of your status.
Do You Need a COVID Test to Fly to the Philippines?
You do not need a negative COVID-19 test to enter the country.
The government recently repealed the requirement to declare your vaccination status through a COVID-19 vaccination certificate. As such, all international arrivals will be accepted regardless of their vaccination status.
Current Travel Restrictions for the Philippines
There are no travel restrictions in the Philippines. The country is, therefore, open for all international arrivals.
Requirements to Enter the Philippines from the U.S.
You need a valid passport for six months from the time of entry to the Philippines.
The passport should also have black pages with sufficient space for an entry visa stamp.
You do not need a tourist visa for visits below 30 days.
Have a ticket to travel back to your country or a third-party country
Requirements for Returning to the U.S. from the Philippines
According to a CDC order dated June 12, 2022, the CDC no longer requires travelers to show a negative COVID test result or evidence of recovery before boarding a flight to the United States.
In addition, effective May 12, 2023, noncitizen, non-immigrant air passengers no longer need to provide proof of being fully vaccinated with an acceptable vaccine to board a plane to the United States.
Symptoms of COVID-19
COVID-19 is caused by severe acute respiratory syndrome coronavirus 2 (SARS-CoV-2). Individuals who become ill experience different symptoms ranging from mild to severe. The symptoms typically appear 2-14 days after exposure to the virus.
The time between exposure and display of symptoms is called the incubation period. Unfortunately, you can still transmit the virus during the incubation period through pre-symptomatic transmission.
The common symptoms of COVID-19 include:
A new and continuous cough
Fever and chills
Rash
Sore throat
Runny nose and congestion
A new loss of taste or smell
Loss of appetite, vomiting, nausea, diarrhea, and abdominal pain
Muscle or body aches
Difficulty breathing or shortness of breath
Fatigue
Dizziness
Sore eyes
Numbness
Difficulty sleeping
The above list of symptoms is incomplete; symptoms may vary depending on the COVID-19 variant and vaccination status. In addition, COVID-19 symptoms are similar to other illnesses such as cold and flu.
More importantly, people who get COVID-19 feel better within a few days or weeks. Some people develop a few symptoms. In other instances, people develop no symptoms but still transmit the virus through asymptomatic transmission.
Some people experience worsened symptoms, including difficulty breathing or persistent pain in the chest, a week after the symptoms start.
Although most people recover from COVID-19 after a few weeks, some people continue to experience symptoms. The long-term effects of COVID-19 are often called long COVID or post-COVID. People with long COVID experience symptoms such as breathlessness, fatigue, and signs of cognitive dysfunction, including forgetfulness, confusion, and lack of mental clarity. The effects of long COVID also hinder a person's ability to attend everyday activities, including work, school, or household chores.
Complications of COVID-19
Many people who get infected with COVID-19 develop mild to moderate symptoms. However, the disease can cause complications and often lead to death. Those aged 65 years and above and people with underlying medical conditions are at a greater risk of developing complications.
COVID-19 complications can include:
Heart problems
Trouble breathing and pneumonia
Multiple organ failure
Blood clots
Acute kidney injury
Viral and bacterial infections
Acute respiratory distress syndrome which is a condition that causes a low amount of oxygen to flow from the lungs through your bloodstream to your organs.
When to Visit an Urgent Care Center
If you have symptoms or have been in contact with an infected person, contact a healthcare provider immediately.
Your healthcare provider will recommend you get tested right away.
More importantly, monitor your symptoms; seek immediate care if you develop emergency symptoms.
Look out for the following emergency symptoms:
New confusion
Trouble breathing
Inability to wake up or stay awake
Constant pain or pressure in the chest
Blue, pale, or gray-colored skin, lips, or nail beds, depending on the skin tone.
If you develop emergency symptoms, contact 911 or call your local emergency health facility.
Total Cases
According to the World Health Organization, there were 4,110,343 confirmed cases of COVID-19 by the second week of September 2023. Over 4 million infected persons have fully recovered, and approximately 66,667 fatalities.
The government vaccination drive has been successful, with 71 million Filipinos vaccinated against a target of 70 million. The 71 million vaccinated people represent 77% of those eligible to be vaccinated.
New cases
According to Our World in Data, the Philippines registered 187 new cases for the week ending September 3, 2023.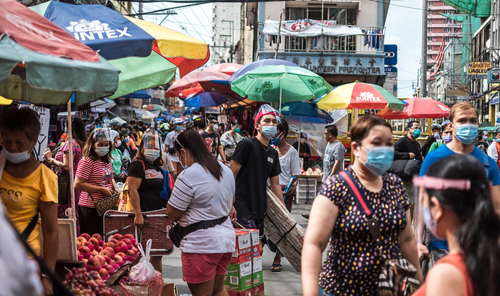 What Will Happen if I Test Positive for Covid-19?
If you test positive for COVID-19, you'll need to complete a facility-based quarantine in the Philippines.
With that in mind, it is advisable to undertake a COVID-19 test in advance to make an informed travel plan and protect those around you.
Testing for COVID-19
Different tests can detect a COVID-19 infection. Viral tests like molecular and antigen tests detect a current COVID-19 infection. On the other hand, an antibody test detects a previous COVID-19 infection.
Molecular Test for COVID-19
A molecular test, sometimes called a nucleic acid amplification test (NAAT) or reverse transcription polymerase chain reaction (RT-PCR) test, detects a current COVID-19 infection. The molecular test for COVID-19 uses a sample from the upper or lower respiratory tract.
Most molecular tests collect a sample using a nasal or throat swab. Alternatively, a healthcare provider can request a saliva sample by asking you to spit into a tube.
The molecular test uses a specific probe to detect the presence of genetic material of the COVID-19 virus. The molecular test works by amplifying—making numerous copies of the genetic material if present in the specimen.
The PCR equipment amplifies the viral genetic material's ribonucleic acid(RNA) into deoxyribonucleic acid (DNA). The amplification occurs 30-40 times until the tiny amounts of RNA become detectable, making it a highly sensitive and accurate method for diagnosing COVID-19.
Simply put, a molecular test can detect a small amount of SARS-CoV-2 and is less likely to detect a false negative result.
According to a study conducted in 2021, the molecular test diagnosed 95.1% of instances of COVID-19 correctly. Due to the high accuracy levels of a molecular test, a positive result is often enough to diagnose a COVID-19 infection, especially if you have symptoms.
In addition, it is often considered the 'gold' standard for diagnosing COVID-19 since its authorization in 2020.
Although a molecular test is highly accurate, it is possible to get a false-negative result for the following reasons:
Testing Too Early: It takes up to five days after exposure before the viral genetic material builds up to sufficient levels detectable in a test. If you take the test too early, you'll likely get a false negative.
Testing Too Late: The viral genetic material begins to decline in the upper respiratory tract after the first week of the infection. You'll likely get a false-negative if you test too late after the infection.
Here's when you can expect the results.
In some healthcare facilities, you can get the results of a molecular test in 15-45 minutes. However, it may take 1-3 days if a healthcare provider sends the samples to an external lab.
Antigen Test for COVID-19
An antigen test, sometimes called a rapid test, self-test, or at-home test, is an alternative method for checking a current COVID-19 infection. The antigen test works by looking for specific viral markers called antigens.
If the specimen has SARS-CoV-2 virus, the lab-produced antibodies in the antigen test will bind to them, producing a positive test. A positive result of an antigen test is very accurate and reliable.
The absence of amplification in the antigen test makes the test less accurate in detecting an infection for a person without symptoms. Therefore, a single negative result of an antigen test cannot rule out an infection.
To be sure you don't have COVID-19, FDA recommends the following steps:
2 antigen tests for persons without symptoms done 48 hours apart
3 antigen tests for persons with symptoms, done 48 hours apart
A single PCR test to confirm a negative PCR test
You can get the results of an antigen test much faster than a molecular test. It takes 15-30 minutes to get your results.
Key Times to Get Tested
It is recommended to test as quickly as possible if you have symptoms
If you do not have symptoms but have been exposed to COVID-19, wait until five full days to get tested.
You may also need to get tested even if you don't have symptoms or a recent exposure before an event, travel, or visiting someone at high risk. Test as close as possible to the day of travel(1-2 days) to help you make an informed travel plan and reduce the risk of spreading it to others.
Interpreting a Positive Result
If your COVID-19 result is positive, the test detected the virus, and you're infected or have a recent infection.
Take the following steps:
Isolate
Take precautions, including wearing a well-constructed face mask or respirator to protect those around you from getting infected.
Tell people whom you had close contact with that they may be exposed.
Monitor your symptoms; if you develop emergency symptoms, seek immediate care.
Contact a healthcare provider to learn about your treatment options
Interpreting a Negative Result
A negative result means the test didn't find the virus but doesn't rule out an infection.
If you have symptoms, speak to your healthcare provider about your test result, particularly if the symptoms worsen.
If you do not have symptoms and haven't been exposed to the virus, you may resume normal activities, including a trip to the Philippines.
Checklist and Resources for International Travelers
Have Proper Documents: Apply for a passport several months in advance. In addition, make two copies of your travel documents and keep them separately in case of an emergency.
Get Informed: Update yourself with the latest travel advisory of your preferred destination. More importantly, review entry/exit and local laws of your target destination.
Resources for International Travel
Stay Informed
You can take several steps to lower your risk of infection and the risk of spreading it to others.
Here are a few recommended steps to take:
Get vaccinated
Avoid close contact with infected persons or those with symptoms
Avoid crowds or indoor spaces with poor ventilation
Wash your hands with soap for at least 20 seconds or disinfect with an alcohol-based sanitizer with at least 60% alcohol
Clean and disinfect high-touch surfaces, including door knobs, electronics, and light switches.
Keep distance between yourself and others when in an indoor public space. Maintaining a safe distance from others is particularly important if you're at high risk of a serious illness.
Make Proper Plans With Covid-19 Test For International Travel
If you're headed to the Philippines for a business trip, the border authorities may not allow you to proceed if you test positive. You could be compelled to quarantine and seek treatment at a state-chosen facility, a source of inconvenience.
That said, consider doing a COVID-19 test in advance to make an informed travel plan and minimize the risk of spreading it to others.
Newport Urgent Care Center has a well-equipped lab and board-certified physicians ready to assist you.
Contact us online or call us at 949.752.6300 to book an appointment.