Newport Urgent Care offers a very friendly, courteous and proficient staff
to help make your visit both a pleasant and rewarding experience.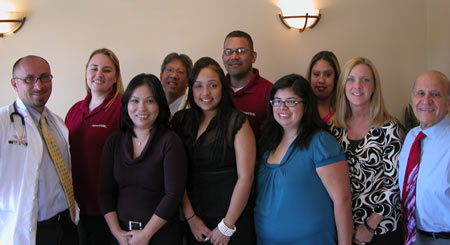 Staff Photo (from L to R): Dr. Miremadi, Rosemary, Julieanne,
Dr. Wong, Stephanie, Abraham, Virdi, Yolanda, Venus and Doug.
Please Meet Our Staff:
Marketing Director/Work Comp Liason
Doug Lucero is our Marketing Director and is responsible in helping to promote and develop both our private and industrial practice. He has been involved in medical marketing and sales for more than 15 years. Mr. Lucero brings a broad array of expertise and experience to Newport Urgent Care, which has helped increase our awareness in the community.
Support Staff
Viridiana Aguilar is one of our three front office employees at Newport Urgent Care, and has worked at the clinic since June 2005. She graduated with honors from Saddleback High School in 2004 and is bilingual in English and Spanish. "Virdi" is also our work comp coordinator. She is extremely organized, very friendly and always polite with everyone she meets. She has been a terrific addition to our staff.
Abraham Watson 
has been with Newport Urgent Care since June 2007 as a licensed X-Ray Technician and Medical Assistant.  He has been working in the medical field since 1991.  Abraham is bilingual in English and Spanish, and he is extremely well liked by patients and his co-workers. ​